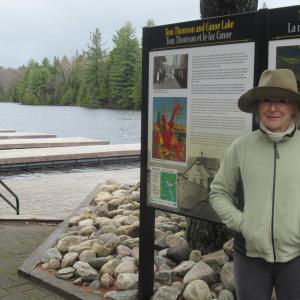 CathArine Somerville
CathArine Somerville Canadian born in Toronto, Catharine works in both the UK and Canada. In 2009 she completed her postgraduate studies at West Dean College/Sussex University. Mainly painting in watercolour and oil she has spent most of her time painting "en Plein Air" exploring and experiencing the natural landscape and its colours using loose brushstrokes and a pallet knife. Awards include the "Gryphon Theatre" Prize for her work, "Iceberg" and the coveted Chairman's Prize at West Dean College, for her series and book, "Las Pozas".  Somerville's acclaimed work can be found internationally in public, private and corporate collections. She is represented by Colborne Street Gallery, Jordan Village Gallery, Gallery 1313, Partial Gallery , Artscapes Gallery and is a member of WAAC (Women's Art Association Canada), ASK, Arts and Letters Club, Artscapes and Artel and Gallery 1313.
ARTIST STATEMENT My Intention is to create a moment. A brief meaningful moment using paint. Nature during the pandemic seems to be more beautiful, finite and alive, similar to a burst of light from a candle before the flame is extinguished. From microbes to whales, every life is connected in a complex and fragile network. There seem to be endless discoveries about my life and my relationship with the natural world. Painting is the way I express my angst, appreciation and love.
Catharine radically pivots her art language to meet the demands of new images and concerns. With practiced dexterity her work leaps through a range of different options available.
Likewise to J. W.M .Turner, Emily Carr and Ivon Hitchens, landscape has served as a source of inspiration and exploration proving to be a deep well of creative stimulus.
While Catharine has a firm studio practice, she equally paints "en plein air" gathering information by traveling to remote areas such as Northwestern Ontario, the Arctic, Mexico and the UK.
As philosopher/artist, Dr. Ed Winters writes "Only through art can we see ourselves as belonging in a world in which these imaginary empathies tell 'truths' about our condition. Being called to paint is a form of witness. The observation of an artist like Catharine, calls upon a developed sensitivity. Being imaginary, it develops a view onto the world. This, I am sure, is what is historically meant by an 'artist's vision'".
Catharine Somerville http://Instagram.com/catharinesomervillewilson_art
https://www.picuki.com/profile/catharinesomervillewilson_art
‪www.catharinesomerville.com‬
---
Everyone should know about
how to break rules and live freely
Describe your home in 3 words
remote, extravagant space , peaceful
Only thing you need when you leave the house
my phone
Favourite book
Le Petit Prince, by Antoine de Saint-Exupéry
In a previous life I was (a) ...
butterfly I think or horse
Why is art important to you?
It is the balance of my life. It is where I go
Select Past Exhibitions
2020
2020
2020
2019
2019
2019
What do you mean, "try"?
Try-before-you-buy with a 3 month rental. 100% of your rental payments go towards the purchase (interest free). Message the artist directly, and start the conversation.
---
Art made (truly) affordable
We make it easy for you to try art with smart payment plans and try-before-you-buy models.
See How It Works
---
You're covered.
Artwork protection is included on all art rentals up to $10K. Our Customer Care team is always here to help.
Contact Us
---
Unlock Trade Access
For industries including interior design, film/TV production, & real estate staging: rent original pieces that fit with your project vision, budget and timeline.
Apply for Trade Access
---
1% from every transaction goes towards a Canadian arts nonprofit.